The 2019 Bear Paw Festival is SOLD OUT of all vendor spaces. Please see below for the vendor wait-list.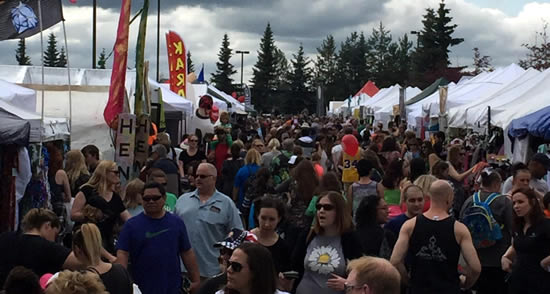 Eagle River Bear Paw Festival Vendor Court
2019 will be the 34th Annual Bear Paw Festival!
The 2019 Bear Paw Festival Vendor Court dates are: July 12th, 13th, and 14th.
Located in Eagle River, in the parking lot south of the Garcia's Restaurant. The Bear Paw Festival Vendor Court is a great place to find live entertainment, a variety of great food, and shopping for everyone. Definitely the perfect place to take your family! Stroll up and down the aisles lined with a huge variety of food and shopping for all. In addition, Golden Wheel Amusements provides carnival rides and games for one and all. Watch your local newspaper for full events list and hours of operation, or visit the Bear Paw Festival page.
Don't forget to register for your space at our 2019 Anchorage Market, Alaska's largest outdoor market with over 600,000 visitors each year!!
Bear Paw Vendor Court Hours:
Friday, July 12, 2019- 12-10 PM
Saturday, July 13, 2019 – 12-10 PM
Sunday, July 14, 2019 – 12-6 PM
Bear Paw Festival Vendor Court Mission Statement
The Bear Paw Festival Vendor Court strives to provide Festival participants and visitors with a summer attraction featuring a large variety of Alaskan arts and crafts, food and imports at reasonable prices, for the purpose of enhancing their enjoyment of the Bear Paw Festival Participants and the reputation of Eagle River; and is designed for the enjoyment of adults and children of all ages, ("the Intended Atmosphere and Use"); and to provide Vendors with a low cost, premier location which affords them an opportunity to successfully showcase and display their products to a broad base of consumers and potential consumers ("The Intended Atmosphere and Use"), and which best positions them to be successful.
Bear Paw Festival Vendor Court
Online Registration Discount Codes:
*Discount for a Single Non-profit Booth – Local nonprofit organization's will receive $50 off of their booth rental, providing they furnish Alaska Markets & Events, Inc. proof of their 501(c)(3) filing status within 24 hours of registration. To receive the discount, please type in the code "19BPFVC-NP" when prompted for the discount code at the time of checkout.